Do It Yourself!
July 9, 2015 | Filed under: DIY,Metal Roofing,News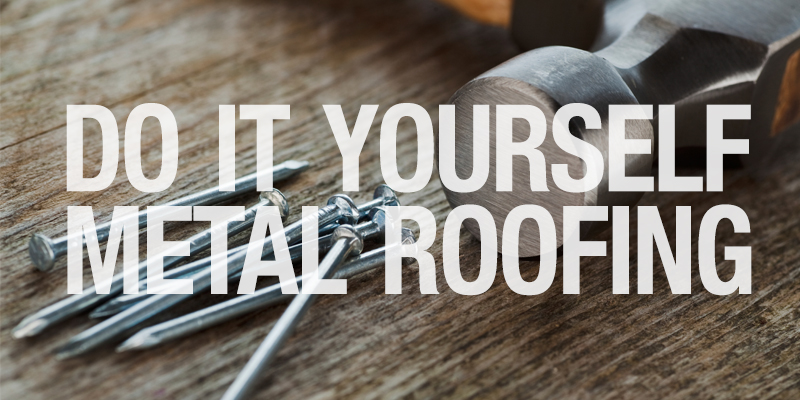 We are happy to announce the launch of our brand new DIY Program!  This program provides a unique opportunity for our customers to save thousands of dollars on a new lifetime metal roof.  We have put together a water-tight system to make sure any "do-it-yourselfer" is trained and equipped to install a beautiful, lifetime metal roof on their home.  It's a Four Step Process.  Here is how it works.

STEP ONE: WE DO THE MATH.
The first step involves getting the materials together.  This requires measuring and ordering.  During the setup phase of your DIY project, a Schroer & Sons Metal Roofing Consultant will measure and create a material list for your home.  This will include everything you will need for your installation.  There are many parts to a lifetime metal roof.  Our Consultants have years of experience ordering materials.  We will also provide you with a list of tools you'll need to finish the job.
STEP TWO: WE DELIVER THE ROOF
No need to rent a U-Haul or pay for freight delivery.  We will pick up your roof from the manufacturer and deliver it right to your door.  We'll bring the underlayment, the shingles, the accessories, even the recommended fasteners.  Best of all, we do it for FREE!
STEP THREE: WE PROVIDE THE TRAINING
Our DIY program is more than just selling you roofing materials and handing you an installation manual.  The most important part of any DIY is doing it right.  We guarantee your roof will be installed the right way by providing you with personal, hands-on, job-site training.  On the first day of your installation, an experienced, professional metal roofing installer will provide you with up to four hours of on-site training.
If you get in a pinch, give us a call.  Additional installation support is available throughout your install.  We guarantee your project will be a success.
STEP FOUR: YOU DO THE INSTALL
Our promise is to give you everything you need to complete your project the right way.  Whether your roof is 1500 square feet or 3500 square feet, we won't let you fail.  You have the peace of mind that you have the best roof in the world, you've saved thousands of dollars installing it, and the pride you did it yourself.
If you are interested in finding out more about our DIY Metal Roofing Program and saving yourself thousands of dollars on a new roof, contact us below.