Does a Metal Roof Really Increase Your Home's Resale Value?
June 5, 2018 | Filed under: News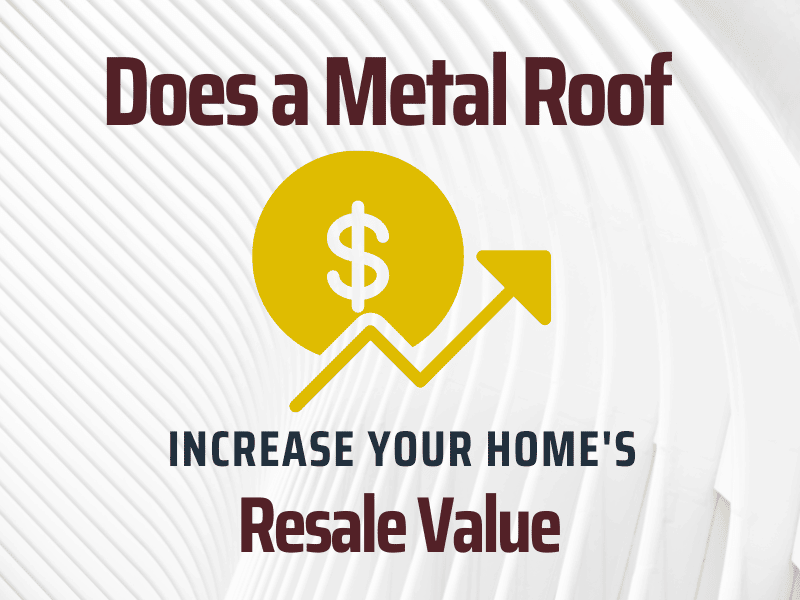 Does a Metal Roof Really Increase Resale Value?
This is a question that comes up an awful lot. Unless you are in your "forever" home, it is a very valid question. Any savvy homeowner justifiably ponders this question. Is it true? Will I get a return on my investment?
Researching the Topic
To find advice and answers to this question, many of us turn to Google. I did a quick Google search before writing this blog and found overwhelming support for the claim that metal roofing increases resale value. Just a quick scan of the articles and sites that the search produced were all professing the added resale value of metal roofing vs. standard asphalt shingles. So, if the internet says it's true, than it must be true, right?
Not All Metal Roofs Are Created Equal
Here's the thing. Lumping all metal roofs into one category is faulty thinking. We have all seen the metal roofs that detract and lessen a home's value. You know what I'm talking about; the cheap, thin, rusted, looks-like-an-old-barn-not-a-house metal roof. The metal roof that will add to a home's value is a premium metal roofing system. Let's compare roofs to countertops. First, countertops: basic laminate vs. granite. When choosing new kitchen countertops, what will have the best return on investment and have the best aesthetics? The answer is granite, even though granite averages 3x the cost of laminate. Now, metal roofs: barn metal vs. premium aluminum/steel. The answer here is obvious. Our premium metal roofing systems by far outperform and outlast both barn metal and asphalt. We have available many premium products that will add to your home's value. These systems include Country Manor Shake, Rustic Shingle, Oxford and ClickLock.
My Personal Experience
I prefer to speak from experience. We recently sold our "starter" home. We had lived in our little house for 13 years. In that time, we made many upgrades to the home. What started off as a small 2 bedroom, 990 square foot home was updated to a 3 bedroom, 1250 square foot home with an oversized 2 car garage. The house was also roofed in a premium aluminum metal roofing system, Rustic Shingle. I'm pretty proud of that little house. When we put the home on the market, I must say I wasn't sure what to expect. We had 2 houses close to us that had been foreclosed on during the past 3 years which is never good for property value. The little neighborhood was scattered with some nice, upgraded properties and some not-so-nice, basic properties.
I have to give my realtor credit for seeing the value of our upgrades (thank you Lee Jones, Realty 2000 Group). I, of course, understood the value of that metal roof. All Classic Metal Roofing Systems come with an industry-leading transferable product warranty. Our buyer would be getting a life-long product complete with warranty. To make a long story short, with some great timing and a knowledgeable buyer, our house sold well above our neighborhood's median price. The buyer, who is an insurance adjuster, said that the roof and warranty along with the nice big garage sold him on the property. He said in his line of business, asphalt roofs are always an issue. As an insurance adjuster, he knew he would have no problems with the lifetime metal roof on the house.
Verdict
The right metal roof installed by the right contractor will indeed add to your home's resale value. Contact Schroer & Sons, LLC to schedule your free in-home roofing consultation and let us help add to the beauty and distinction of you home.