Metal Roof in St Marys Ohio!
June 4, 2015 | Filed under: Metal Roofing,News,Recent Roofing Jobs
Schroer & Sons Contracting teams have recently completed a installation of a metal roof in St. Mary's Ohio. This beautiful brick home was only made that much more beautiful by the addition of our Rustic Shingle in Mustang Brown.  Rustic shingle is our most popular metal roof.  Not only is it beautiful, it is a lifetime roof.  It will never wear out, rot, or streak.
Why You Should Choose Metal For Your Next Roof.
For one reason: beauty.  In the before picture, you will notice the heavy wear and tear on this asphalt roof.  The streaking you see is common.  It indicates the growth of an algae, known as Gloecapsa Magma.  (For more information about this aesthetic nuisance, click here.)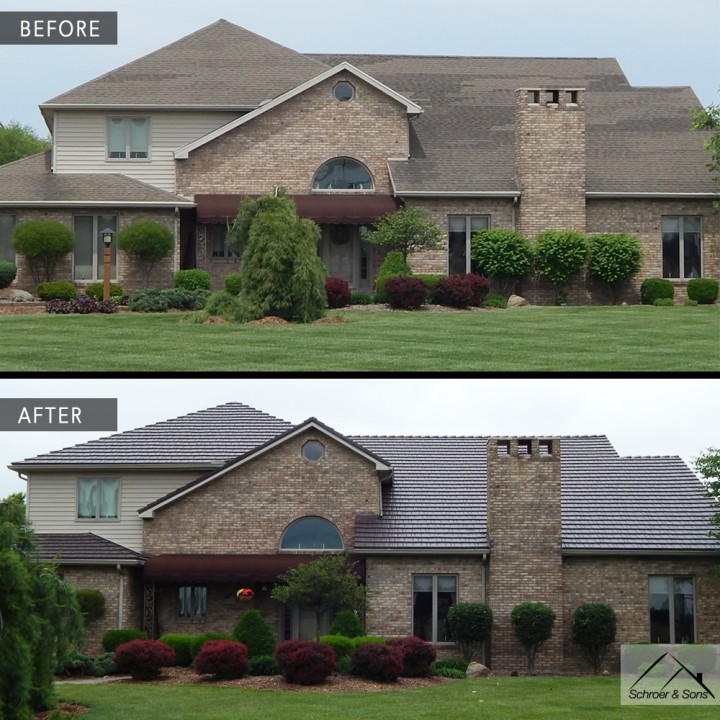 For another reason: longevity.  With a full installation of a metal roof from Schroer & Sons, this homeowner in St Mary's will never need to worry about aging affects of their roof.  Not only will this metal roof remain beautiful for a lifetime, it will never leak, never crack, never wear-out, and never lose value.
Finally: durability.  A metal roof from Schroer & Sons is the best defense against mother nature.  When you choose an asphalt, you expose your home to the wear and tear affects of rain and wind and ice and snow.  The Rustic shingle is rated against high winds up to 200mph!  It has passed UL2218 Class IV impact resistance tests.
Never Roof Again!
A metal roof from Schroer & Sons is the last roof you'll ever buy.  Contact Schroer & Sons to schedule a no-hassle, no-pressure roofing consultation today.