Metal Roof on Tectum
October 8, 2015 | Filed under: Lima Ohio,Technical
File this article under technical.  
A seasoned roofer is rarely surprised.  While no two roofs are exactly the same, a roof is a roof.  Residential roofing is generally comprised of five things: decking, valleys, hips, gables, and ridges.  Other than the occasional unusual penetration, most roofs are fairly straightforward.  Occasionally, we encounter something unusual.  This was the case for a project Schroer & Sons recently completed in Lima Ohio.
Just a Lovely Cabin in the Woods…Right?
Below are pictures of what may seem like a typical lovely cabin in the woods.  What makes this roof unusual was not the shape, but the actual construction.  The roof deck was made using a product called Tectum.  Tectum is a tongue & groove panelling made of either of wood fibers fused with mineral cements or with a polystyrene foam plastic insulation core.  Tectum is most often used in large open buildings, like gymnasiums and indoor pools because of it its acoustic properties.  It is not often used in residential applications.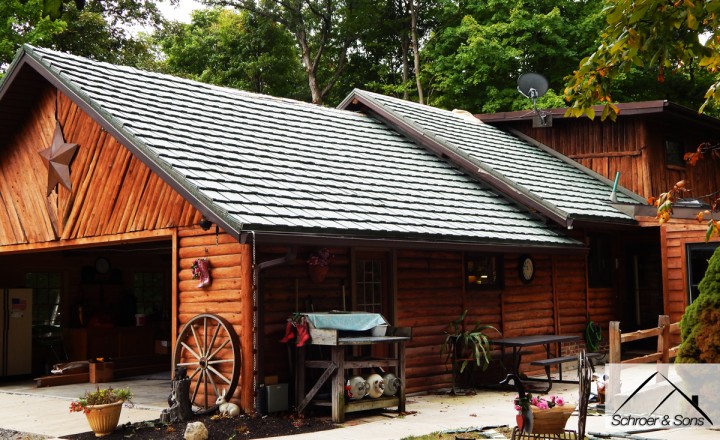 The challenge for installing a metal roof over tectum panels is that of fastening.  Our typical fasteners are aluminum ring-shank nails made to hold securely to wood and OSB.  The cement/wood fiber mix of a tectum panel is simply not dense enough to provide our metal roof the wind resistance rating for which it is known.  We had to find another option.  Enter the Tube-Lok fastener.
Sometimes called the 'fish-hook nail', this special fastener is a two-piece fastening system.  When driven into the decking, the rounded nailhead is bent backward, hooking into the roof deck and securing the metal shingle.  Like all our roofs, a fastener is placed every 12".  Along with our 4-way interlocking panels, this ensures our metal roof can withstand even the highest winds.
Up For Whatever.
Whatever your situation, whatever your home's construction, the installation team at Schroer & Sons is ready and able to fit your home with the best look, most durable, longest-lasting roofs on the market today.  Call an metal roofing expert today and schedule a no-pressure, no-obligation consultation today.