From Stone Roof to Shake Roof in Sidney, OH
November 8, 2012 | Filed under: Country Manor Shake,Metal Roofing,News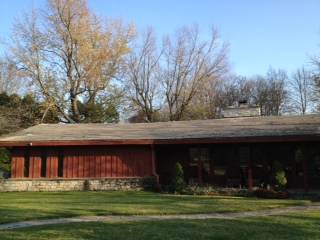 My introduction to this beautiful 1970's ranch home in Sidney brought many surprises! The customer called and explained she had a stone roof in need of replacement. I thought removing slate material would be our challenge. What I actually found was a 4500 square foot (45 square) roof, with a 5/12 pitch and tar/pea gravel build up roofing surface that was 2" thick!
This situation comes with a huge challenge of removing the material without destroying the roof decking, also the fact that this will not be the normal clean up of old roofing materials.
I called Todd Miller, roofing expert and president of Classic Metal Roofing Systems, because as a green energy company Classic shingles usually are installed over existing roofing materials. Todd advised me that we will have to remove the material down to bare decking and then install the new system,using Country Manor Shake aluminum shingles.
This project will begin next week and I look forward to posting more on the progress, challenges and solutions as we move forward to completion.