The Truth Behind Wood Shake Roofs
September 3, 2015 | Filed under: News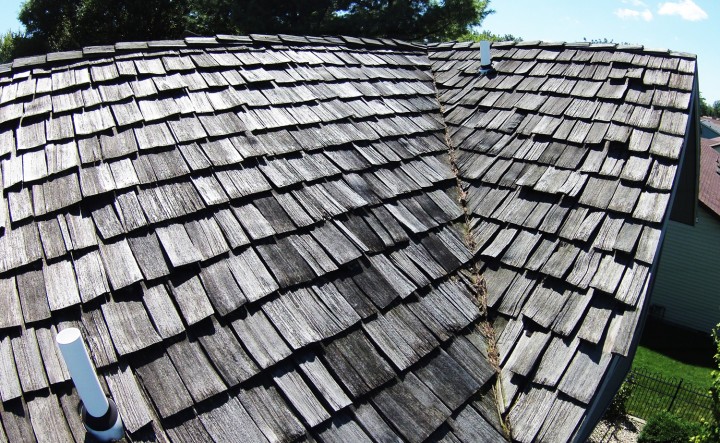 The Benefits of Wood Shake Roofs
Wood Shakes are among the oldest types of roofs.  Before the invention of mills in the 19th century, most shakes were hand split from logs precut to the appropriate lengths.  The species of wood shakes varied dependent upon what trees were available to the area.  Cedar is a popular choice.
Wood shake roofing is a beautiful option, providing rich dimensions, variegated colors, and natural wood texture.  The different widths and lengths create a staggered look with deep shadow lines running across the roof.  This gives the roof a unique, handmade personality.  No two shake roofs are exactly alike.
Six Problems With Wood Shake Roofs.
Despite all the beauty, below are six downsides and drawbacks to wood shake roofs.
Rot.  Even though modern shakes are chemically treated to resist rot, years under the sun dries out the chemicals.  The shakes soak in rain water and eventually rot, compromising your home.  South-facing roof faces tend to wear faster than other parts of the roof.   See below.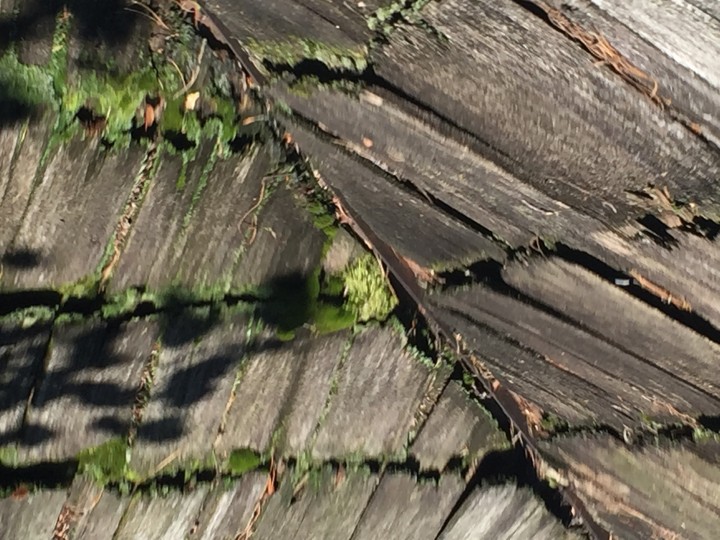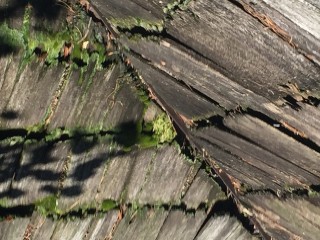 Moss & Mildew.  The above picture features a Cedar Shake roof that's only 30 years old.  Throughout the roof, moss grows between the wood shakes.  Moss feeds on moisture build-up on the roof.  Left untreated, this overgrowth will lift the wood shingles and leave your roof deck exposed to the elements.
Distortion.  Natural stresses in the wood shakes are released from cutting the wood.  Over time, the shakes curl and cup.  Only after a few years in the sun, and wood shakes begin to dry out.  Dried wood curls, once more exposing the roof decking and potentially letting in leaks and creating expensive repairs.
Fire hazard.  Wood is flammable.  While most modern shakes are treated with a fire-retardant chemicals, this eventually wears out.  Your home becomes susceptible to wind driven sparks from a neighboring fire.
Maintenance.  In order to keep your shake roof protecting your home, regular maintenance is required.  This includes walking the roof, removing pine needles, leaf litter, and cleaning it with a power washer.  If you are unable to do this yourself, maintenance must be hired out.  In some circumstances, entire sections of the roof may need replaced.  This means discolored shakes.  See the picture below.
Expense.  While cedar shakes are typically less money than slate or clay tile, they are still far more expensive than asphalt.  Additionally, wood shakes are difficult to install, requiring homeowners to pay a premium to qualified contractors to install them.
The Truth: Wood Shake Roofs are a Temporary Roof.
In the end, wood shake roofs present an attractive look and provide your home with a unique personality.  However, the problems with wood shake roofs are many.  The problems outweigh the benefits.  Eventually the roof will need repaired and replaced.  Most of the pictures above are from a 30 year old roof in Ohio.
The good news is there is a way to get all the benefits of wood shake without any of the problems.  The solution is high-quality, lifetime metal roofs from Classic Metal Roofing Systems.
The Solution: Metal.
Schroer & Sons Metal Roofing Systems has the solution.  It comes in the form of metal shingles.  Our metal roofs have all the benefits and beauty of wood shakes without any of the problems and maintenance hassles of wood.  Our roofs are made of the highest quality, non-corrosive metals.  They don't rot like wood.  They don't curl and bend and cup and hold moisture.  Most of our roofs are made from the highest grade aluminum available today.  They hold their shape and protect your home from even the worst weather conditions.  A metal roof from Schroer & Sons is a lifetime roof.  It requires no maintenance, is self-cleaning, and the paint never fades.
Best of all, a metal roof from Schroer & Sons looks even better than the best wood shakes.  Follow the link below to see a whole catalogue of homes with a Schroer & Sons metal roof installed on them.  We think you'll agree, a metal roof is a far better alternative to wood shakes.
Call Schroer & Sons to schedule a no-hassle, no pressure metal roofing consultation today.