What is Thermobond Powder Coating?
July 16, 2014 | Filed under: Metal Roofing,paint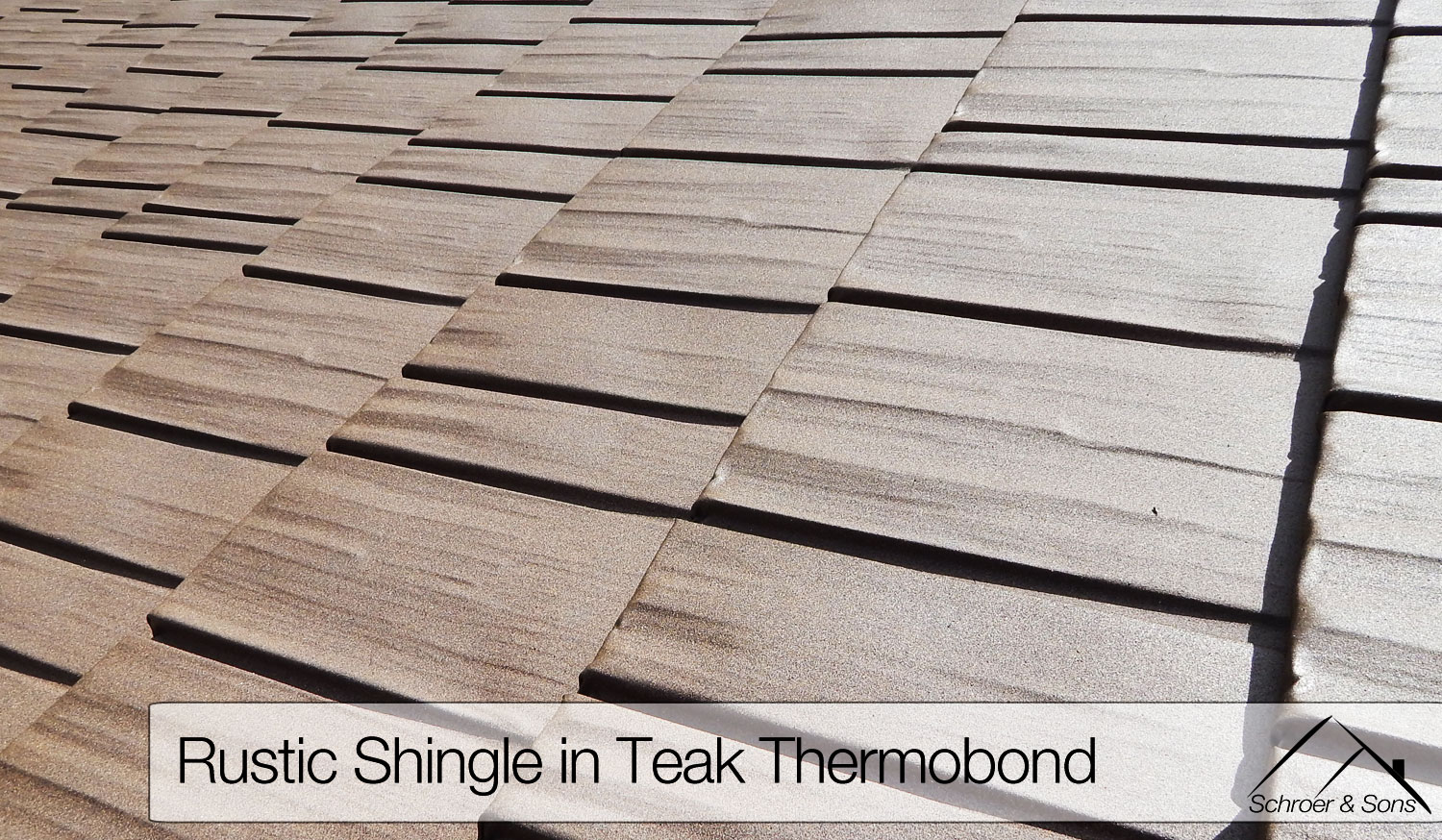 What is ThermoBond powder coating? And is it worth it?
At Schroer & Sons, our passion is beautiful roofs. That is one more reason why we have partnered with Classic Metal Roofing Systems in Piqua Ohio. Not only do they manufacture the finest metal roofs in the world, they offer our customers the very best and most beautiful paint finishes on the market. Allow us to introduce you to ThermoBond!
ThermoBond is a special powder coat available on all our metal roofing profiles. It is a revolutionary technology in paint-coating that helps metal roofing break free from the standard monochromatic appearance. ThermoBond is a special powder coat which gives metal a natural, weathered appearance and texture.
ThermoBond is comprised of small chunks of tightly bonded paint. Its unique texture allows us to blend various colors of paint into one coating. The ThermoBond powder coat creates a variety of light and dark nuances giving it a perfectly weathered look for the life of the roof. This combination makes the color options virtually endless.
Specific colors have already been combined to created several gorgeous, weathered mixes. Some have the color of stone, others of vintage metal, and some others of weathered wood. We have a blend for every home. There are virtually 200 different color and finish combinations available on any one of our lifetime metal roofing systems.
Two Color Finishes:
With ThermoBond you have two finish options. You can choose to have your metal roofing system sprayed to a consistent, uniform finish. Or, you can choose to have your metal roof system hit with bursts of ThermoBond paint coat. This second option allows the base coat to show through in some spots, giving the roof of your home that perfect aged look.
How is ThermoBond Made?
ThermoBond begins with our highest quality Kynar 500® and Hylar 5000® PVDF resin-based finish. Then, the ThermoBond finish is applied as an electrostatic powder. The finish is baked on at approximately 450º Fahrenheit. The ThermoBond chemically crosses with the base coat and creates an unbreakable adhesion and durability. It simply will not scratch. Because ThermoBond uses the same technology as our Kynar 500 and Hylar 5000 paint coats, it is highly fade and chalk resistant.
See a sample!
Not only does ThermoBond maintain the tested durability of a lifetime metal roof from Classic Metal Roofing Systems, it also adds that special touch that your home deserves. At Schroer & Sons, we are happy to offer our customers the very best in quality, durability, and beauty. Your roofing consultant carries samples of every ThermoBond powder coat option. Click here to have a Schroer & Sons consultant show you a sample today!
For more information on Schroer & Sons, Classic Metal Roofing, or Thermobond, call our office at: 937-492-7725.
Kynar 500® is a registered trademark belonging to Arkema Inc.
Hylar 5000® is a registered trademark belonging to Solvay