True Cost of Your Roofing Choice
May 19, 2022 | Filed under: Buying a New Roof,Financial,Installation,News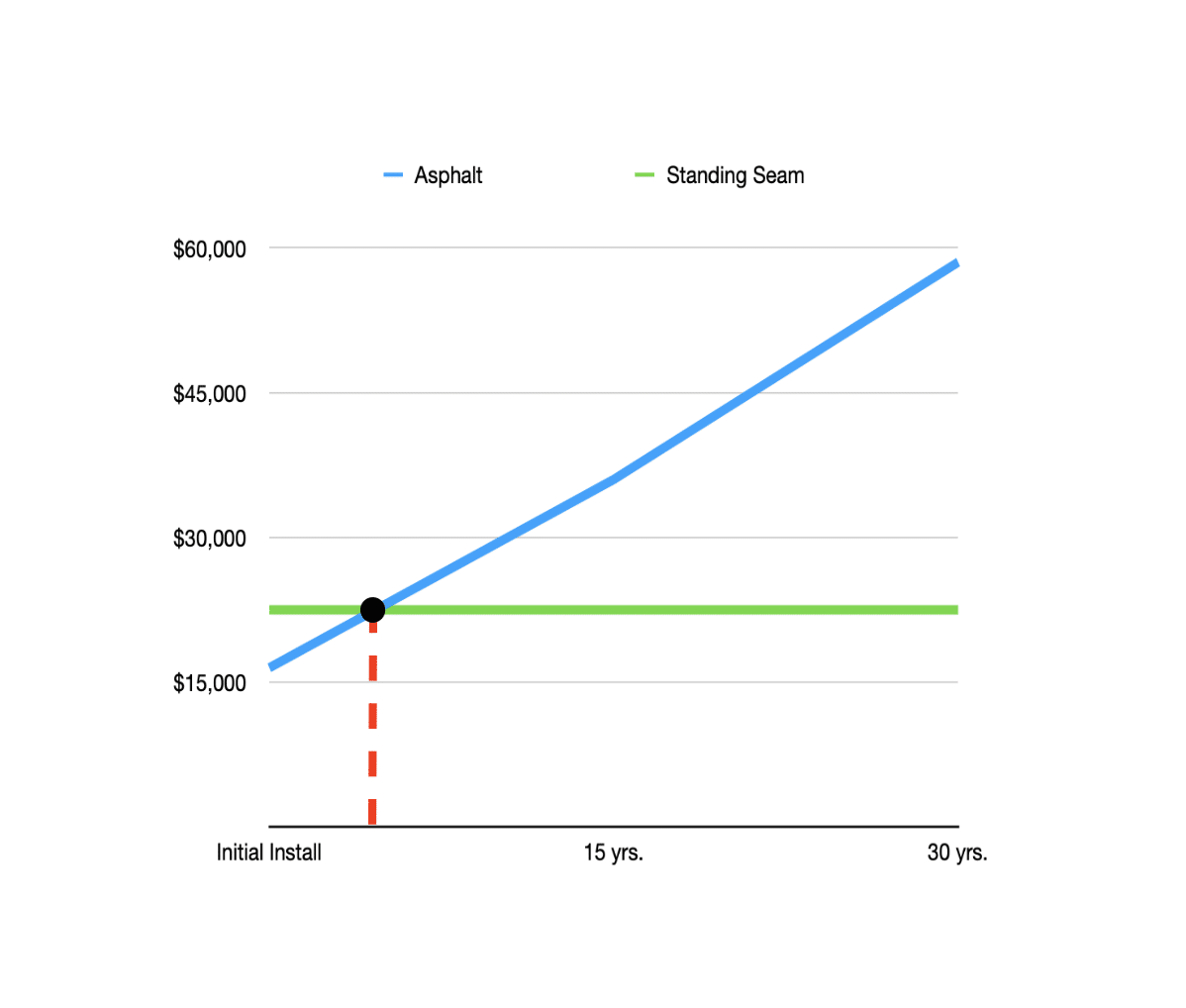 There is an increased interest for metal roofing. Installing a new standing seam metal roof is a great choice. The first question brought up is "what's the price". The real question should be, "what's the cost". Price is an important factor, but cost is the most important. Price is the actual dollar amount you pay for a new roof. Cost on the other hand is the total amount of money the consumer has spent for a new roof. Here is an article to better explain the difference between cost and price. The true cost of your roofing choice is not determined by price alone.
The graph above shows the true cost of installing a new asphalt roof vs. installing a new standing seam roof. The initial price of a new asphalt roof is appealing to a homeowners budget; however, the long-term cost is not. Let's take a look at the costs over time so we can understand the true cost of your roofing choice.
Savings and Lifespan
Asphalt shingles in Ohio have a life span ranging from 12-15 years. Over the lifetime of your home, asphalt roofs will actually cost you over 3x the amount of standing seam. As shown above, by choosing to install a new asphalt roof, it will take 5 short years for those shingles to cost you the same amount as a new Schroer Standing Seam metal roof.
The Longevity of Metal
Unlike asphalt shingles, Schroer Standing Seam lasts a lifetime. This means that price equals cost. The graph above shows that by choosing to install a new metal roof you actually save a significant amount of cost over time, starting after 5 years from the initial installation. We are able to make this happen through our superior products, labor, and warranties.
Ask us
We would love to answer any questions you may have throughout your journey of finding a new roof. Fill out a contact form here.