Two Rustic Shingle Metal Roof Installs Back-to-Back, Quick!
May 21, 2014 | Filed under: Metal Roofing,News,Recent Roofing Jobs,Rustic Style Shingle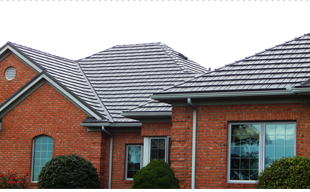 Can a lifetime metal roof be installed perfectly, beautifully, and quickly all at the same time? At Schroer & Sons Contracting, it can!  Below you'll find pictures of our most recent installs in Sidney, Ohio.  These two roofs were installed in a matter of 10 days!
Rustic shingles are one of our most popular profiles.  The rugged texture, deep grooves are made to replicate wood shake shingles.  It looks amazing on low pitch roofs, like the ones you see above.  Rustic shingle is available in 11 base colors and many more powder coat options.
Like all our lifetime metal roofing profiles, Rustic Shingle uses only hidden fasteners.  It is strong, safe, and completely maintenance free.  Rustic Shingle will not leak, rust, crack, rot, or streak.  It is a proven solution to all your roofing problems.  Rustic Shingle has been installed on over 100,000,000 square feet of roofs all across the globe.  It very well may be the industry's longest running and most proven roofing product.
Our customers choose Rustic Shingles because they last forever and save money.  Rustic Shingles are painted with our "cool coatings" paint system made to reflect ambient heat from the sun.  They will save you up to 25% on your cooling costs for the lifetime of your home.
If you live in Columbus Ohio, Lima Ohio, Sidney Ohio, or the surrounding areas, your home needs a Rustic Shingle metal roofing system from Schroer & Sons.  We would love to sit down with you and show you which metal roofing system is best for your home.
Call us for a FREE, no-pressure, no-obligation-to-buy roofing consultation today!  
937-492-7725