Schroer & Sons Code of Ethics
September 10, 2014 | Filed under: News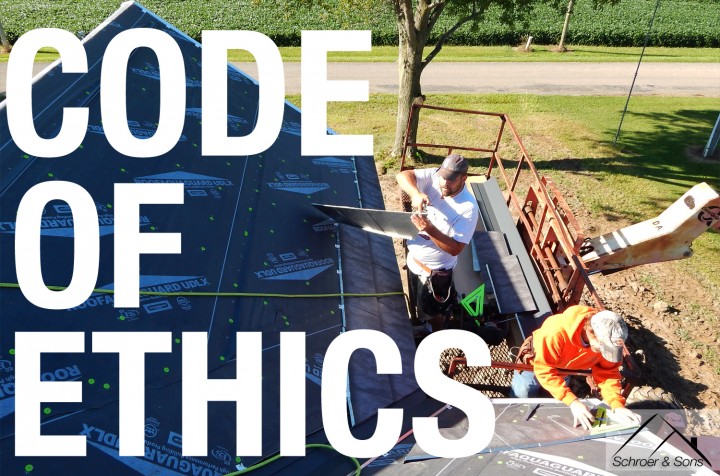 Hiring a roofing contractor can be a nightmare.  Who can you trust?  How do you avoid getting ripped off?  How do you know your contractor will do the right thing, install your roof the right way, and protect the privacy and safety of your home?
At Schroer & Sons, we want to put your mind at ease.  We are committed to your happiness.  This is not only a promise, it is one of the three core values of our company.  From the owner to the apprentice installer, we are committed to your happiness.  This means we will do whatever we can to make it right.  When you hire Schroer & Sons, you will enjoy peace of mind, knowing our installation crews will treat your home better than if it were their own.
As you consider a roofing contractor, we submit to you the Schroer & Sons Code of Ethics.  These seven principles guide the way we treat every project, small or large.
Honesty and fairness in all our dealings. We promise to be honest and fair, open and clear in all our dealings with our customers, even when it involves a financial loss to our company.
Do it right or make it right. We promise to do it right the first time. If it isn't right, we will make it right. We are committed to our customer's ongoing happiness with our work and we will work tirelessly until it is so.
Protect the safety of our crew and our customers. Nothing is more important that the safety of our crew and customers. We will do everything necessary to ensure our customers and our crew remain safe while our projects are being completed.
Respect our customer's privacy. We commit to protecting the privacy of our customers by offering them as much or as little interaction as desired.
Maintain a clean job site. At the end of each work day, our crew promises to clean up any worksite debri or scrap. This keeps our customer's home's safe and clean.
Provide the highest quality workmanship for every project. Quality is our obsession. We may not be the fastest or the cheapest option, but we commit to being the best.
Protect the environment. We recognize that we are stewards of God's creation, and therefore must do whatever we can to reduce waste and recycle when possible.
You can download a copy of our code of ethics here.  This is our promise to you.
Call Schroer & Sons today and enjoy the peace of mind of hiring the right contractor for your metal roofing project.